Mixed Fruits Vinegar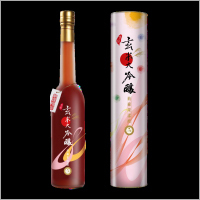 Mixed Fruits Vinegar
Product Description
Manufacture and Product of Taiwan

Brown Rice Fruit Vinegar is produced using the advanced method for brewing . Specially selected coarse brown rice with no additives, fermented at constant temperature, for pure natural brewing using Oak Barrel in order to obtain the prime quality of vinegar
Products Advantages

Oak is the king of the hundred trees, contains tannins and fragrant trees, and fragrant tree is the best natural
Fendo essence makes the vinegar unique and easy to absorb. Vinegar blended in oak barrels
The polyphenols released from the oak allow water and acid to escape through the pores of the oak.
Preserve the essence of fruit and black rice.
Description : Mixed Fruits Vinegar Aged 2 years
Ingredients : Brown Rice, Apple, Plum, Grape, Lemon, Wild Cherry, Isomalt FOS
Pack Size / Bottle : 500 ml
Pack Size / Carton : 15 bottles per carton
Gross Weight : 19.8kg
Package Size : 30.5 cm x 34.5 cm x 19.7 cm
Minimum Order Quantity : 100 cartons

Contact Us
9f-1, no.20, ningxia Road, datong Dist, Taipei City New Taipei City Northern Taiwan Taiwan 886-2-25523180
Phone :+886225523180